The Association des radiologistes du Québec (ARQ) counts over 650 diagnostic radiologists as its members.
Its mission is to enhance the professional status of its members, advance their interests and contribute to the development of diagnostic radiology, while promoting high-quality care and services for Québec residents.
More specifically, the ARQ focuses on improving appropriateness of care, deploying continuous education initiatives with its partner, the Société de radiologie du Québec, and implementing actions to enhance the consultant physician's role in the eyes of general practitioners and specialists.
The ARQ is one of 35 associations affiliated with the Fédération des médecins spécialistes du Québec.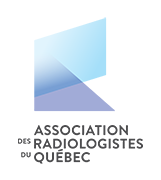 Members of the Board
Dr. Magalie Dubé, president
Dr. Roc Turcotte, vice-president
Dr. Martin Belleville, secretary
Dr. Grégoire Bernèche, treasurer
Dr. Jean-François Desjardins, councillor to the executive comittee
Dr. Jean-Sébastien Billiard, councillor
Dr. Jean-Philippe Delorme, councillor
Dr. Sylvie Harvey, councillor
Dr. Bojan Kovacina, councillor
Dr. Caroline Lacroix, councillor
Dr. Patrick Larochelle, councillor
Dr. Lavigna Lavoie, councillor
Dr. Leila Morcos, councillor
Dr. Philippe Nolet-Lévesque, councillor
Dr. Julien Rhéaume-Lanoie, councillor
Dr. Julie Ringuette, councillor
Dr. Micheline Thibodeau, councillor
Dr. Frédéric Thomas-Chaussé, councillor
Dr. Maxime Tremblay, councillor